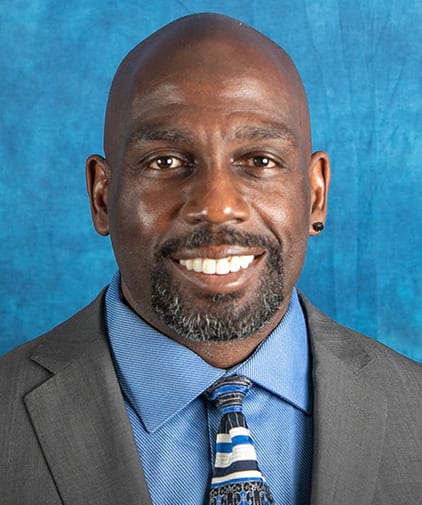 President
WES'SHANTE C. COGGINS
As President and Founder of Banneret Security, Mr. Coggins' 31 years of commendable service, with Atlanta law enforcement, yields in-depth knowledge of crime prevention and application of field-tested security strategy. His hands-on approach to customizing your security coverage provides you the comprehensive residential, commercial, and hotel security solutions you need.
A strong security presence does more than protect property; it brings a feeling of safety to the community. With over forty years of combined training in advanced police and security tactics, we're here to bring you peace of mind.
Many Banneret Security personnel are passionate members of local area law enforcement, dedicated to securing our city, even off-duty. Their insight into local and national crime trends gives Banneret Security force a decisive edge in all security fields.
Founded by a Metro Atlanta law enforcement veteran, Banneret Security conducts full tactical training in house, reaching, beyond ASIS professional standards. To ensure maximum security-value from each team member, Banneret Security employs police instructors for classroom training. From routine patrol scenarios to live walkthroughs, Banneret Security guards maintain up to date training to prepare them for action in any situation.
Attentive surveillance and proper equipment is the key to providing a proper security presence. Banneret Security officers thoroughly learn their location to provide the insight necessary to properly patrol your business. This enables them to recognize problems before they happen.
Each Banneret Security guard is equipped with:
Your safety and security are top priority. At Banneret Security, our interest is protecting your interests which is more than driving by with a flashlight. As metro area law enforcement officers, training teaches familiarity with the uncertain situations and how diligent monitoring can help avoid problems.
Beyond keeping constant contact with headquarters, every Banneret Security officer is monitored with precision GPS Technology, recording their movement and location at all times. You can be sure that all of our Banneret Security officers are alert and on patrol, offering you the safety and security you deserve.
Accountability is an important part of the Banneret Security Promise. In the event of a disturbance, we want our officers on the ground for prevention, not simply reporting the occurrence.
All of our clients know that we are on duty and available to address their needs at anytime. 24-hour availability is a key tenet of the Banneret Security customer service promise.
At the core, security is a customer service. As such, Banneret Security has taken pride in standard-setting customer service fo revery customer, everytime. Our job is to effectively deal with incidents in a swift, personable manner, leaving you safe and secure. Your peace of mind is our business. Let us be your eyes when you're sleep.
Satisfied Customers
We Got Your Back
Banneret Security has taken pride in providing quality commercial and residential security for around a decade. Our current locations range from Georgia, Florida, Tennessee, and Louisiana.
Metropolitan High-Rise Apartments

Office Buildings & Complexes

Retail and Restaurant Locations